ZombiU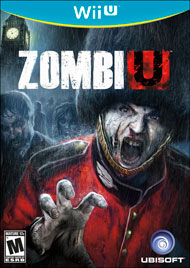 {{{Caption}}}
Developer(s)
Ubisoft
Publisher(s)
Ubisoft
Director(s)
N/A
Producer(s)
N/A
Artist(s)
N/A
Writer(s)
N/A
Composer(s)
N/A
Platform(s)
Release Date(s)
2012
November 18 (NA)
November 30 (EU)
November 30 (AUS)
December 8 (JA)
Genre(s)
First-person shooter, survival horror
Mode(s)
Single-player, Multi-player
Controller(s)
Rating(s)
M (ERSB)
18+ (PEGI)
MA15+
ZombiU is a survival horror game that is being produced by Ubisoft.
Killer Freaks From Outer Space
Edit
Killer Freaks from Outer Space was a horror game in development for the Wii U. The game later received alterations and became, "ZombiU". The game was basically about aliens attacking the city of London, if you listen to the newspapers "London is Nuked", Rescuers work daily to find survivors, but there not many left. But, those who are left, now struggle to survive, and to protect themselves, they start off killing the aliens that are in their way.
The aliens, which are probably nicknamed such as the game title itself, Killer Freaks, are Extraterrestrial creatures from outer space that landed in London, attacking humanity. Killer Freaks seem to be inspired by the Rabbids, from the Rayman spin-off series Raving Rabbids, but with gore and hunger for human flesh.