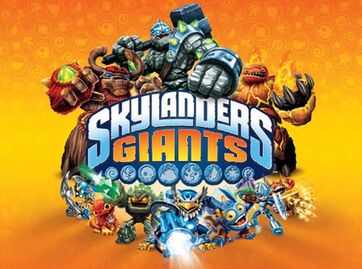 Skylanders: Giants
is the direct sequel to
Skylanders: Spyro's Adventure
.
Story Summary
Edit
Years ago, the Giants fought Battles against Arkeyans, but were banished to Earth. With a new threat looming, they have to come back, and join forces with the Skylanders. Only you can use the Portal of Power and save Skylands.
Key Features
Edit
Going Big
Edit
Introducing the Giants. There twice the size of normal skylanders, and are twice as powerful.
Bright Lights
Edit
To further brighten the life of the Skylanders. Introducing the LightCore Figures. They light up, and have special powers.
New Skylanders
Edit
Eight new Skylanders with their own pesonality and powers will join the collection along with the Giants.
Forward Compatible
Edit
All the Skylanders from Spyro's Adventure will be 100% compatible with Skylanders: Giants.
Wider Worlds
Edit
This game will have Larger Maps, Inhanced Battle modes, Desner Elemental Gates, and new Heroic Challenges.
Difficulty
Edit
This game will come with three modes: Easy, medium, and hard. You will also be able to unlock "nightmare" or "Legendary" mode.