Rayman Legends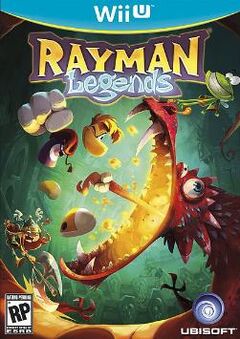 {{{Caption}}}
Developer(s)
Ubisoft
Publisher(s)
Ubisoft
Director(s)
Ubisoft
Producer(s)
Ubisoft
Artist(s)
Ubisoft
Writer(s)
Ubisoft
Composer(s)
Ubisoft
Series
Rayman
Platform(s)
Wii U
Release Date(s)
First Quarter of 2013
Genre(s)
Platform
Mode(s)
TBA
Controller(s)
Wii U GamePad
Rating(s)
RP
Rayman Legends is an upcoming platform game developed by Ubisoft Montpellier and published by Ubisoft. It is the fifth main title in the Rayman series and the direct sequel of 2011's Rayman Origins.
The gameplay remains similar to the previous installment, up to four players can navigate the sidescrolling world simultaneously. Players collect lums, attack enemies, free Teensies, and platform through the environment. The game features unique features involving the Wii U tablet.
05:09

Rayman Legends GamePlay Demo - E3 2012

04:09

Rayman Legends (VG) () - E3 Levels trailer

02:06

Rayman Legends (VG) () - Platforming Hero trailer
Ad blocker interference detected!
Wikia is a free-to-use site that makes money from advertising. We have a modified experience for viewers using ad blockers

Wikia is not accessible if you've made further modifications. Remove the custom ad blocker rule(s) and the page will load as expected.