Rabbids Land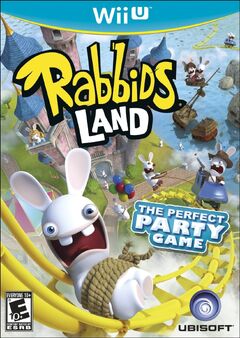 {{{Caption}}}
Developer(s)
Ubisoft Paris
Publisher(s)
Series
Raving Rabbids Series
Platform(s)
Release Date(s)

NA November 18, 2012
JP June 6, 2012
EU November 30, 2012
AU November 30, 2012
Genre(s)
Party
Mode(s)
1P, Multi-player
Controller(s)
Wii U GamePad
Up to four Wiimotes
Nunchuck
Wii Classic Controller
Wii U Pro Controller
Rating(s)
ESRB: E10
PEGI: 7 Years and older
Rabbids Land is a party game developed by Ubisoft for the Wii U. It is the seventh installment of the Raving Rabbids series and was announced at E3 2012.
Ad blocker interference detected!
Wikia is a free-to-use site that makes money from advertising. We have a modified experience for viewers using ad blockers

Wikia is not accessible if you've made further modifications. Remove the custom ad blocker rule(s) and the page will load as expected.