NES Remix 2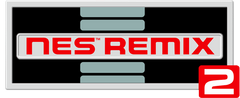 NES Remix 2's Logo
Developer(s)
Nintendo EAD
indieszero
Publisher(s)
Platform(s)
Release Date(s)
NA April 25, 2014
EU April 25, 2014
JP April 24, 2014
AU April 25, 2014
Genre(s)
Compilation
Mode(s)
Single Player, multiplayer
Controller(s)
Wii U Gamepad
Wii U Pro Controller
Wii Remote
Wii Classic Controller
Rating(s)
ESRB: E
PEGI: Seven years and older
NES Remix 2 is a compilation game for the Wii U. It was revealed at the February 2014 Nintendo Direct and released exclusively for the Nintendo eShop. It is the sequel to NES Remix.
Ad blocker interference detected!
Wikia is a free-to-use site that makes money from advertising. We have a modified experience for viewers using ad blockers

Wikia is not accessible if you've made further modifications. Remove the custom ad blocker rule(s) and the page will load as expected.