Mario Kart 8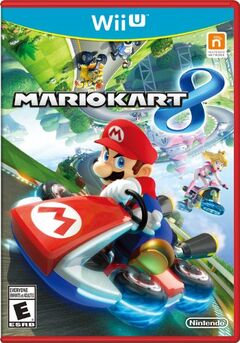 {{{Caption}}}
Developer(s)
Nintendo EAD
Publisher(s)
Nintendo
Series
Mario Kart series
Platform(s)
Wii U
Release Date(s)
JP May 29, 2014
NA May 30, 2014
EU May 30, 2014
AU May 31, 2014
Genre(s)
Racing
Mode(s)
Single Player, Multiplayer, Online Play
Controller(s)
Wii U GamePad
1-4 Wii Remotes
Wii Classic Controller
Wii U Pro Controller
Wii Wheel
Rating(s)
ESRB: E
PEGI: 3 Years and older
Mario Kart 8 is a racing game for the Wii U. It was first announced on the January 23rd, 2013 Nintendo Direct that a new installment in the Mario Kart franchise was in development. It was officially shown at the 2013 E3 Nintendo Direct as "Mario Kart 8". 
A new gameplay mechanic for the game is Anti-Gravity. Other returning mechanics include bikes, tricks, and 12 player races from Mario Kart Wii and vehicle customization, underwater driving, and gliding from Mario Kart 7.
Playable Characters
Edit
There are 32 tracks[1], consisting of 16 new tracks and 16 retro tracks, featuring one track each from Super Mario Kart and Mario Kart: Super Circuit, four tracks from Mario Kart 64, two each from Mario Kart: Double Dash!! and Mario Kart Wii, and three each from Mario Kart DS and Mario Kart 7.[2] As with the retro tracks from the 3DS installment, the retro tracks in this game feature altered sections that incorporate the game's hang-glider, underwater, and anti-gravity features. The game features live-recorded music for all of the new tracks and most of the retro tracks. The tracks have been described as more narrow when compared to previous Mario Kart tracks, specifically those from Mario Kart Wii[3].
| Mushroom Cup | Flower Cup | Star Cup | Special Cup |
| --- | --- | --- | --- |
| | | | |
| | | | |
| | | | |
| | | | |
| Shell Cup | Banana Cup | Leaf Cup | Lightning Cup |
| | | | |
| | | | |
| | | | |
| | | | |
| Egg Cup | Triforce Cup | Crossing Cup | Bell Cup |
| --- | --- | --- | --- |
| | | | |
| | | | |
| | | | |
| | | | |
Battle Courses
Edit
Items found on the track

Item Box
Gives the player a random item. Items depend on the player's position.

Coin
Gives the player a small boost and increases speed when more are collected, up to a max of 10.
Items

Coin
Gives the player 2 coins.

Boomerang Flower
Can be thrown up to three times, hitting racers forward and when it returns.

Piranha Plant
Automatically chomps on obstacles and other racers, giving a short speed boost for each bite.

Super Horn
Emits a radial shockwave, destroying all obstacles and items, and hitting racers

Crazy 8
Generates eight items (Coin, Bob-omb, Mushroom, Star, Blooper, Green Shell, Red Shell, and a Banana) that spin around the player for them to use.

Green Shell
Travels in a straight line and knocks over a racer if it hits.

Triple Green Shells
Three Green Shells spin around the player's kart, protecting from incoming attacks.

Red Shell
Finds the closest racer in front of the player and knocks it over.

Triple Red Shells
Three Red Shells spin around the player's kart, protecting from incoming attacks.

Banana
Protects the player from incoming items, and spins out other racers that hit it.

Triple Bananas
Three bananas that spin around the player's kart, protecting from incoming attacks

Mushroom
Gives the player a small speed boost.

Triple Mushrooms
Spins around the player's kart, providing them with three separate speed boosts.

Golden Mushroom
Provides the player's kart with continuous speed boosts for a short time.

Fire Flower
Allows the player to throw fireballs for a short time that cause other karts to spin out on impact.

Star
Provides the player invisibility from all terrain and item, and also a speed boost.

Blooper
Sprays ink on all racers ahead and reduces their visibility.

Bob-omb
Explodes after a short time when thrown or dropped, knocking over any kart in its blast radius.

Spiny Shell
Targets the racer in first place, knocking over all other karts in its path. When it hits the player in first place, it creates a blue explosion, shrinking any kart in its blast radius.

Lightning
Causes all opponents to drop their items, shrink, and drive slowly for a time depending on their position.

Bullet Bill
Transforms the player into a Bullet Bill, rocketing through the track with auto-pilot, and providing invincibility from all terrain and items.
References
Edit