Just Dance 4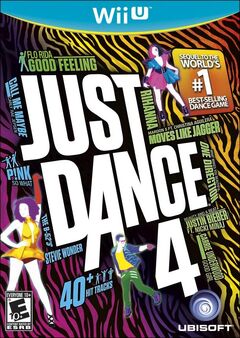 {{{Caption}}}
Developer(s)
Ubisoft Paris
Ubisoft Romania
Ubisoft Reflections
Publisher(s)
Ubisoft
Series
Just Dance
Platform(s)
PlayStation 3, Wii, Wii U, Xbox 360
Release Date(s)
Wii, Xbox 360, PlayStation 3
EU October 2, 2012
AU October 2, 2012
NA October 9, 2012
Wii U
EU Q4 2012
AU Q4 2012

NA Q4 2012
Genre(s)
Rhythm
Rating(s)
ESRB: E10+, PEGI: 3+
Just Dance 4 is a dance game for Wii U maded by Ubisoft. It's not an exclusive game for Wii U.
The gameplay is the same of the other games of the series, the player needs to follow the dance steps given by the computer. Also, Just Dance 4 have various modes:
Battle Mode: The players dances for get points, the player who gets more points win.
Puppet Master Mode: Three players dances, when the player with the Wii U GamePad trades the person who's dancing.