Ben 10: Omniverse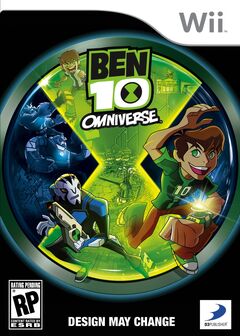 {{{Caption}}}
Developer(s)
D3Publisher
Publisher(s)
D3Publisher of America
Director(s)
D3Publisher
Producer(s)
D3Publisher
Artist(s)
D3Publisher
Writer(s)
D3Publisher
Composer(s)
D3Publisher
Series
Ben 10
Platform(s)
Wii U
Release Date(s)
TBD
Genre(s)
Platform, Adventure
Mode(s)
TBA
Controller(s)
Wii U GamePad
Rating(s)
RP
Ben 10: Omniverseis a Wii U game that's release date is currently undetermined.
Game Description
Edit
In the new action game, players can play as both Young and Teen Ben, switch forms between 13 playable alien heroes, including new aliens like Bloxx and Gravattack, and fight in an assortment of action-packed levels throughout the subterranean alien city of Undertown and other show-inspired locales. In Ben: 10 Omniverse, Rook will also star in the game come equipped with a Proto-Tool, a swiss army knife of the future, that can transform into a variety of weapons that will bring a whole new dimension to combat.
Screenshots
Edit
Ad blocker interference detected!
Wikia is a free-to-use site that makes money from advertising. We have a modified experience for viewers using ad blockers

Wikia is not accessible if you've made further modifications. Remove the custom ad blocker rule(s) and the page will load as expected.