Aliens: Colonial Marines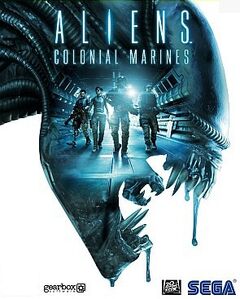 {{{Caption}}}
Developer(s)
Gearbox Software, Nerve Software, Timegate Studios, Demiurge studios
Publisher(s)
Sega
Series
Aliens
Platform(s)
Wii U, Cloud (onlive), Playstation 3, Xbox 360, Microsoft Windows
Release Date(s)
February 12, 2013 (PS3, Xbox 360, Windows) TBA (Wii U)
Genre(s)
First-person shooter, Survival Horror
Mode(s)
Single-player, Multiplayer
Rating(s)
RP
Aliens: Colonial Marines is a upcoming Sci-fi/Horror game Developed by Gearbox software, and published by Sega for the Wii U, to be released at a undetermined date.
The player takes the role of United States Colonial Marine Corporal Christopher Winter, a member of a search and rescue team to the U.S.S. Sulaco to search for missing Marines sent to LV-426.
Gameplay Information
Edit
Aliens: Colonial Marines is a first-person survival shooter. The player will be able to use weapons and equipment from the film, including pulse rifles, motion trackers, and flamethrowers. Players will earn points during gameplay, which they can redeem for uprgrade, and weapons.
The Game will feature split screen co-op, as well as drop-in/drop out system, which will allow up to four players to cooperatively play missions it's campaign.[1]